Purchase Women to Watch Program Book Ads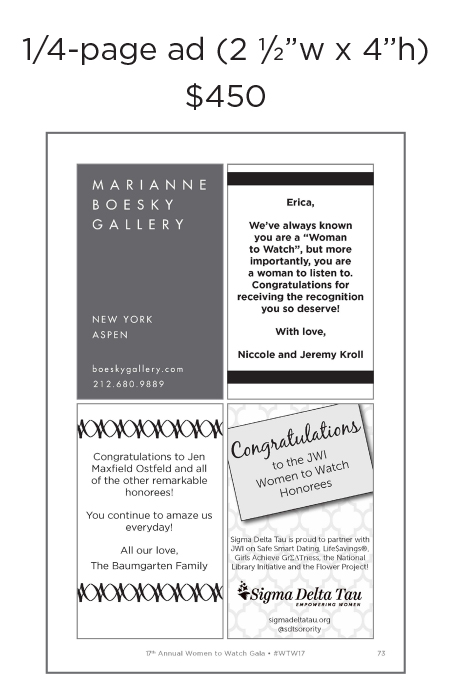 Purchase Women to Watch Program Book Ads
You may purchase additional ads once you've added the first one to your cart. If you would like to be an event sponsor, click here.
Ads must be received before Friday, November 16, 2018.
Submit electronic ads to [email protected].
All ads print in black and white. Please submit artwork, as a high-resolution (300 dpi or greater) image file or press-quality PDF with fonts and photos embedded.
Ad Specs
Full-page: 5"w x 8"h
Half-page: 5"w x 4"h
Quarter-page: 2 1/2"w x 4"h
Eighth-page: 2 1/2"w x 2"h
Women to Watch • Monday, December 3, 2018 • Marriott Wardman Park, Washington, D.C.
Registration opens 9:00 a.m. • Symposium 9:30 to 11:00 a.m. • Luncheon 11:00 a.m. to 2:00 p.m.
Want to see samples of last year's ads? Flip through the book here: