Young Women's Advocacy Day
Monday, April 1, 2019
8:00 a.m. to 1:00 p.m.
Capitol Hill
JWI's Young Women's Leadership Network is organizing its third annual Young Women's Advocacy Day, bringing young women to converge on Capitol Hill and meet with legislators from both sides of the aisle. The goal of this day is to empower young women to speak out about issues affecting women and girls.
Before the morning briefing begins, join us for coffee and light breakfast at Ebenezer's Coffeehouse (201 F St NE) from 8:00 to 8:30 a.m. From there we will walk over to the briefing room together.
Stay tuned for more details! This event is free.
Senator Lamar Alexander
Senator Cory Booker
Senator Shelley Moore Capito
Senator Kirsten Gillibrand
Senator Mazie Hirono
Senator Jacky Rosen
Senator Bernie Sanders
Senator Cindy Hyde Smith
Representative Charlie Crist
Representative Sharice Davids
Representative Rosa DeLauro
Representative David Kustoff
Representative Jamie Raskin
Attendees: We need a breakfast and coffee headcount! Will you be joining us at Ebenezers Coffeehouse before the morning briefing? Let us know!
FAQs
What if I've never been to an Advocacy Day on Capitol Hill and don't know how to do it?
The first part of our morning will include a training where JWI's Senior Advocacy Manager Dorian Karp will go over talking points and give you tips on how to present issues in your meetings. Then, you'll join a group where at least one person has advocacy experience. And, the staff you'll be meeting with has experience with advocacy groups, since this is pretty common on the Hill - so, don't sweat it!
Bonus: We're also hosting a pre-Advocacy Day event, Spring Into Action, where you can get some additional insight on advocacy!
How many meetings will I have? Who will I be meeting with?
Each participant will attend two meetings with staff from both the House and/or Senate from both sides of the aisle. We do our best to match people with representatives from their home state, or who have a connection to the state (for example, if you went to college there) since that tends to be most compelling for representatives.
How will I know what group I'm in?
A group leader will email you a few days before Advocacy Day to introduce themself! On the day of the event, you will have the opportunity to meet with your group before you head out to Senate and House offices, so you can figure out who wants to talk about each issue, etc. In your meetings with legislative staff, your group leader will take the lead to introduce JWI and your group before you delve into issues.
I want to participate but this is during the work day. How do other people swing it?
Some people take advantage of policies like volunteer time or professional development. It's also a great networking opportunity. And, some people take it as a half-day - it's worth it to speak out for causes you care about!
I don't know anyone attending. Should I still come?
ABSOLUTELY. Today is about raising YOUR voice- speaking about issues that matter most to YOU. And as a plus, you'll be doing it with bada$$ young women who care deeply about the same issues as you. So get out there you independent woman.
What should I wear?
Dress on Capitol Hill is business attire. Keep in mind that you'll be walking between meetings, so comfortable (business appropriate) shoes are recommended. Take a look at photos from last year to get an idea!
What should I bring?
We will provide you with all the materials you need, including a folder with the bio of the members' offices you will be attending. Feel free to bring a notebook and pen to take notes or prep before meetings.
"Decisions are made by those who show up. The JWI Young Women's Leadership Network gathered in DC for conversations around JWI goals and platforms (advocating for atrisk women &girls, ensuring safety of women and families, building financial literacy and economic security and creating unique faith and interfaith alliances.) We spoke to leadership on the hill to advocate for the closing of the boyfriend loophole, an updated Congressional Accountability Act, and the reauthorization of the Violence Against Women Act. This day was powerful, motivating, and out of my comfort zone. I heard from new friends who have personal anecdotes with these issues. We brainstormed network-wide initiatives to gather for change. We helped each other navigate our own challenges by tackling these issues. I am so honored to be in the room where it happened today."
Marissa, Chicago Network
"I've done a fair amount of community organizing, but last year's Advocacy Day was my first experience on the Hill. We visited three offices to discuss Paycheck Fairness Act, Women's Health Protection Act, and Violence Against Women Act. I was pleasantly surprised to receive an email that afternoon saying that one of the Congresswomen we visited agreed to cosponsor a bill that will protect women in domestic violence situations. It was a huge victory for us and I walked away feeling motivated and totally inspired by the women that I met that day. I ended up joining JWI's YWLN because of this event, and I can't wait to do it all again this year!"
Tiffany Harris, D.C. Network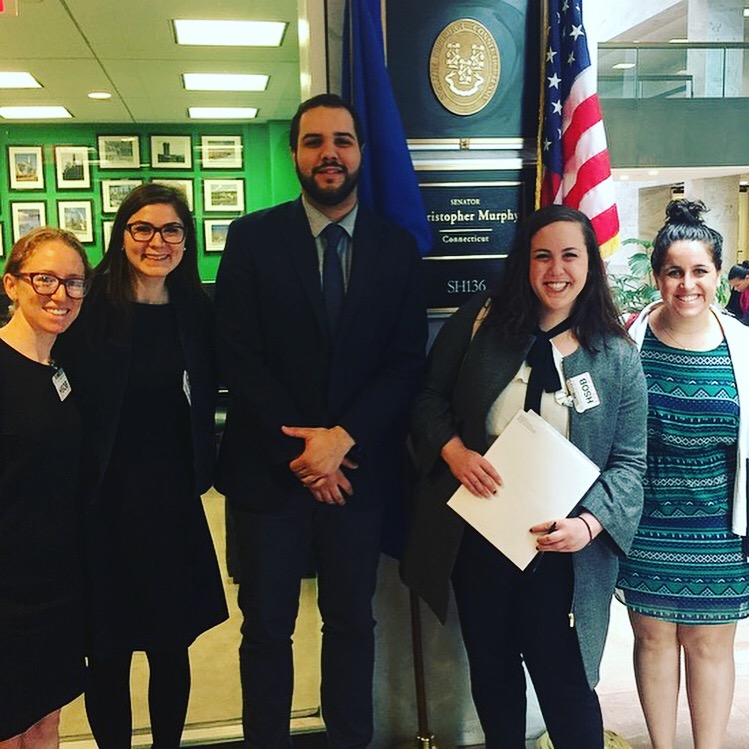 Our Advocacy Day Partners:
Scholarships
We want Network representatives from across the U.S. at this year's Advocacy Day - and we know that travel can be costly. JWI is offering modest financial aid to cover travel expenses for some Young Women's Leadership Network board members who are committed to attending both the National Board Retreat on March 31st and Advocacy Day.
Is this you? Apply here: