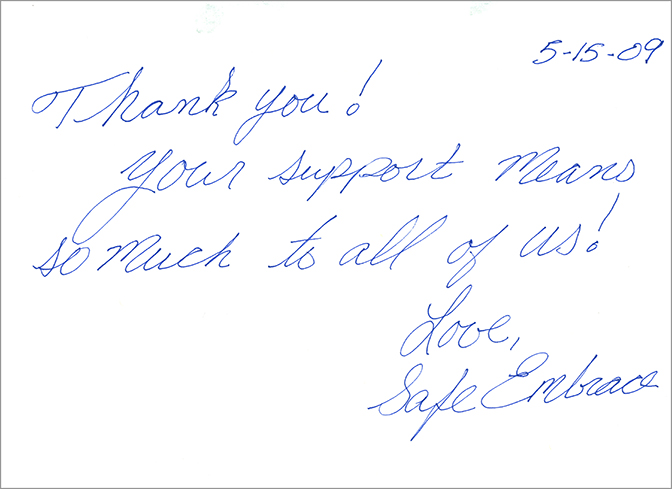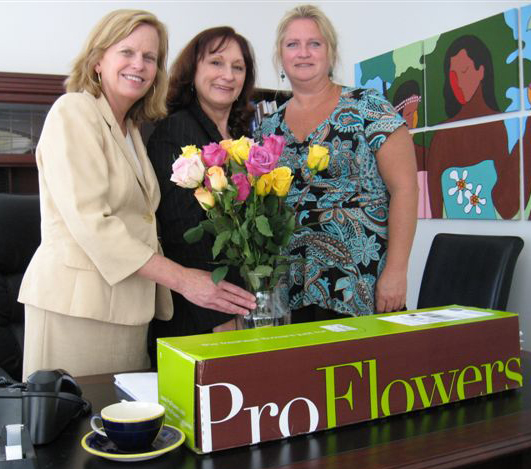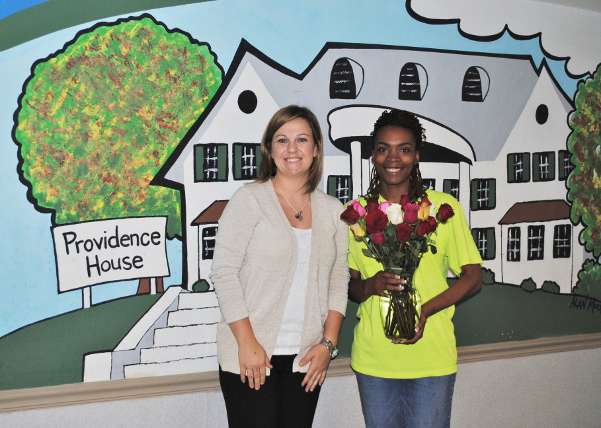 The flowers and financial literacy materials that you help us send to battered women's shelters each Mother's Day DO make a difference!
"Judy came to our safehouse after surviving an attempt on her life - orchestrated by her husband and executed by her own son. The plan had been to beat her until she died. The one thing no one accounted for was Judy's inner strength. There was no question that we wanted her to have the flowers that JWI sent to us that Mother's Day. Tears fell from Judy's eyes as she explained that no one had ever given her flowers before. We told her what JWI is, what you do, and how each donation to the Flower Project reaches the most special of mothers on this holiday. Judy was touched: "How could strangers from across this country take a moment to care to send me flowers?" Every Mother's Day since, she buys flowers to put in the vase that she saved from JWI's bouquet, and she thinks of you."
- from the director of a JWI Flower Project recipient shelter
I wanted to take a minute to email you a BIG THANKS for the JWI Mother's Day flowers. The survivors at the YWCA's Arden House Safe house were very surprised and ladies really enjoyed the bouquet. The flowers and cards JWI provided were a great addition to the Mother's Day celebration. Attached is a photo of Crisis Intervention Advocate Octavia Smith accepting the flowers on behalf of the clients. Due to the confidential nature of our program our client are not able to be photographed however, we wanted to sent you a photo of the lovely bouquet.
The financial literacy (both English and Spanish) was also very helpful. We plan to incorporate this material into our financial literacy program which is provided to clients through one-on-one case management services.
Again, many thanks for all YWCA staff and clients for making Mother's Day special through the Flower Project.
- Kate Yuan, Annapolis YWCA
We received the flowers on Friday and our shelter residents were delighted to receive them! They were so happy to be remembered and we appreciate having the opportunity to be a recipient of the JWI's Mother's Day Flower Project!
- Carol Pruitt, Development Specialist, Domestic Violence & Child Advocacy Center, Cleveland, OH
Thank you so much for the bouquet of flowers. Each mom received 1 or 2 roses because the bouquet had 24 roses and the shelter has 13 moms. They were beautiful! Thanks to the Mother's Day flower project!!!!!
- YWCA Seattle
"SafeSpace and the women we serve are so grateful for the JWI Mother's Day Flower Project. The beautiful flowers and thoughtful support make this special day even more special for all the mothers in our shelter."
- Tracy Chiljean Levy, Director of Development, SafeSpace, Stuart, FL
"Bessie came to us a few years ago with several children. She was a professional with two master's degrees, lived in a gorgeous home, was admired in her community, and always had a smile on her face. No one would believe how horribly Bessie was being sexually, financially, and emotionally abused. Her husband had complete control of the checkbook, the bank account, and all spending money. If Bessie needed money, she was literally given a menu of different sex acts that she could perform to "earn" what she needed to buy groceries; pay the cellphone bill; purchase clothes, school supplies, medications, etc. for her children. Through counseling at our shelter, Bessie learned that she was not at fault for what happened and she does not have to stay in such an abusive marriage. She has regained her self-esteem and opened her own checking and saving accounts. Each Mother's Day we choose one shelter resident to receive all the flowers that JWI sends. That year we chose Bessie, but she was reluctant to accept them; she wanted to share with other moms in group therapy. We explained this was her new lesson: To choose and to love herself and her children over her husband. We loved her. JWI loved her."
- shelter director, Maryland
"Gifts of this kind raise the spirits of women who are trying to move forward towards a second chance at a better life."
- Beth Burns, Director, Chelsea House, Tallahassee, FL
"Our clients know that someone was thinking of them and sending their best wishes and for that moment they feel special and cared for – something that hasn't always happened in their lives!"
- Laura, Sojourner Project, Minnetonka, MN
"I wish you could have been here to see the pure joy on the faces of the ladies in our Family Violence Center when they received the long stemmed roses that you sent them for Mother's Day. At a time in their lives when there is not much to smile about, their eyes twinkled and they broke into beautiful smiles as they received the roses…At a time in their lives when they are stressed about many things, and on a day that for many is bittersweet, these ladies are reassured that somebody cares about them. Just – them. Somebody thinks they are worthy to be pampered and somebody gives them gifts. That somebody is you – Jewish Women International."
- Suzanne Durham, Family Violence Center, Birmingham, AL
"Every year between 150-200 women spend Mother's Day with us. Every year, their Mother's Day is special and beautiful because of your flowers and support. Thank you for believing in our families."
- DeAndre Esteen, The Shade Tree, Las Vegas, NV
"The flowers are breathtaking and our ladies couldn't have been happier when we announced that they were for all of them. We graciously thank you for keeping us in your thoughts! Bless you all!"
- Hope Center for Women, Lexington, KY
"The flowers bring color into our home. They make the women feel so special and appreciated. For some women, they have never received flowers so this is very special to them."
- Safe Embrace, Sparks, NV
"It is amazing what something as simple as a flower can do to the expression on a woman's face."
- Kathleen Higgins, Executive Director, Rainbow House, Chicago, IL
"This was such a beautiful and generous gift, you can't believe how this Mother's Day program improves women's outlook on life. They just beam with those beautiful nail colors."
- Ida Petkus, Domestic Violence Advocacy Center, Medford, NJ
"I cannot tell you how much this means to the ladies when they receive the flowers for Mother's Day. It is such a difficult time for the ladies to be in a shelter and especially during Mother's Day. All too often women make sacrifices for their children; to stay or to leave. We always inform the ladies where the flowers come from and the enormous amount of gratitude is overwhelming. For them to know there are others who recognize the challenges they face and to lift them up in spirit, we are thankful."
- Pam Gillenwater, Resolve Family Abuse Program Director, Charleston YWCA, Charleston, WV
"We are very blessed and honored to receive your generous gifts for the women who stay here at our shelter. Mother's Day can be a very lonely time when you're parenting alone. We appreciate Jewish Women International for making their Mother's Day feel special and also your continued support over the years."
- Karen Newman, Women of Nations, St. Paul, MN