Contemporary Seder Style
The Seder, probably more than any other Jewish gathering, calls for attractive Judaica. How can you entertain your new boyfriend, stylish co-worker, or potential son-in-law with a tired looking Seder plate and a paper napkin matzo cover? That's where these four women come in—they are doing their best to create and curate gorgeous Judaica with a contemporary aesthetic. Just the kind of pieces you need to add beauty and style to your holiday table.
Joy Stember
One of the things Joy Stember remembers most about her trip to Israel with Birthright is the sense of connection to her Jewish heritage that she felt as she stood atop Masada. "To be in Israel, to be standing where I was standing, where my ancestors stood thousands of years ago, looking at the same desert they looked at. And while I'm here centuries later, their legacy lives on."
A few months later, Stember, who has a BFA in metalsmithing and fine jewelry design, was taking part in a workshop in pewtersmithing with renowned silversmith Fred Fenster at the Penland School of Crafts in North Carolina. She realized that every piece of work she was creating was Judaica.
She knew then what she wanted to become: a Judaica artist. "I started thinking about my own legacy," she said. "I knew that life is too short not to follow your dreams."
She took the five pieces she had made at Penland and entered them in several different juried craft shows. She was accepted in all of them, including the highly selective Smithsonian Craft Show. That convinced her she was on the right track. She quit her job as a custom picture framer and, with help from her Dad, a jewelry designer, opened her own studio in Abingdon, Pa., a Philadelphia suburb.
Six years later Stember has never regretted her decision. "It's a cool thought that someone will get something for a bar mitzvah and then use it for their wedding years later. That's what I love about making Judaica. The work will be used from generation to generation and become part of a family's legacy. "
She admits that being an entrepreneur and running a business is stressful. "You are responsible for everything," she says. "I graduated with a fine arts degree, not a business degree, and have had to learn everything along the way." But having her own business is better than working for someone else, she stresses. "I love seeing my own ideas come to fruition. It's awesome to do something every day that you love, and to have people love your work and have it in their home."
New from Joy for Passover 2016 is the Magnetic Seder Plate ($250), made from powder-coated steel with pewter cups and brass Hebrew letters. The cups have magnets on the bottom so they can be positioned anywhere on the plate. Two colors are available—matte grey or matte gold. The cups are imprinted with the names of each item in Hebrew or English and Hebrew together.
Danielle Frum
"In the world of online Judaica there is too much choice and a lack of choice," declares Danielle Frum.
Her frustration at being unable to find Judaica she liked inspired Frum to create Fig Tree & Vine, a lifestyle and ecommerce site.
The site features a curated collection of contemporary Judaica selected or commissioned from artists in North America, Israel and other locales. "There is nothing on the site that's not at a high standard of taste," she asserts. "I like to have a range of prices but aesthetics is the driving force." Also featured on the site are engaging lifestyle stories highlighting stylish modern Jewish living and Frum's encounters with artisans and chefs the world over.
The site's slogan, "old world, new traditions," grows out of Frum's philosophy that doing the same things every year puts "tradition in aspic." Being a convert to Judaism, she believes, gives her a fresh perspective, since she "didn't grow up with a set aesthetic. I don't have the inhibitions of having grown up with things being done a certain way, but I have all the zeal and the enthusiasm of a convert."
A journalist and former International Blogs Editor for The Huffington Post, Frum focuses not only on the products, but also the people behind them. "When you come to Fig Tree and Vine, you don't just look at products, you learn the stories of the artisans." Visitors to her site can read about, among others, Toronto Jewish mom Lisa Borden who makes dripless eco Shabbat candles; Tel Aviv designers Anat Stein and Hadas Kruk of Studio Armadillo who make whimsical mezuzahs, candlesticks and vases; and Chicago-based architect Amy Reichert, creator of elegant and innovative candlesticks, menorahs and other Judaica.
Over the past two years, Frum has travelled to Israel four times in search of new products and stories to feature on Fig Tree & Vine. "In this era of BDS [Boycott, Divestment and Sanctions] and its hostility to Israeli products," she says, "it's wonderful for me to celebrate Israeli artisans and provide tangible support to their work."
When she can't find products that she would like, she commissions them. Since most challah and matzoh covers that she found were much too elaborate to appeal to her taste, she commissioned Canadian Jewish designer and former high fashion couturier David Zrihen to create holiday linens with a contemporary aesthetic. "He loved the challenge," she notes, and the pieces from his Lake House Linens line are crafted from Belgian linen and have a modern vibe.
Coordinating with the linens is the Modern Rustic Collection that Frum commissioned from Canadian-based woodworker John Ward. These include not only a Challah board and candlesticks but a Seder plate hand hewn from bird's eye maple with ebonized ash bowls ($185).
"I love setting a beautiful holiday table," says Frum. "Making a meal a beautiful experience enhances the religious experience."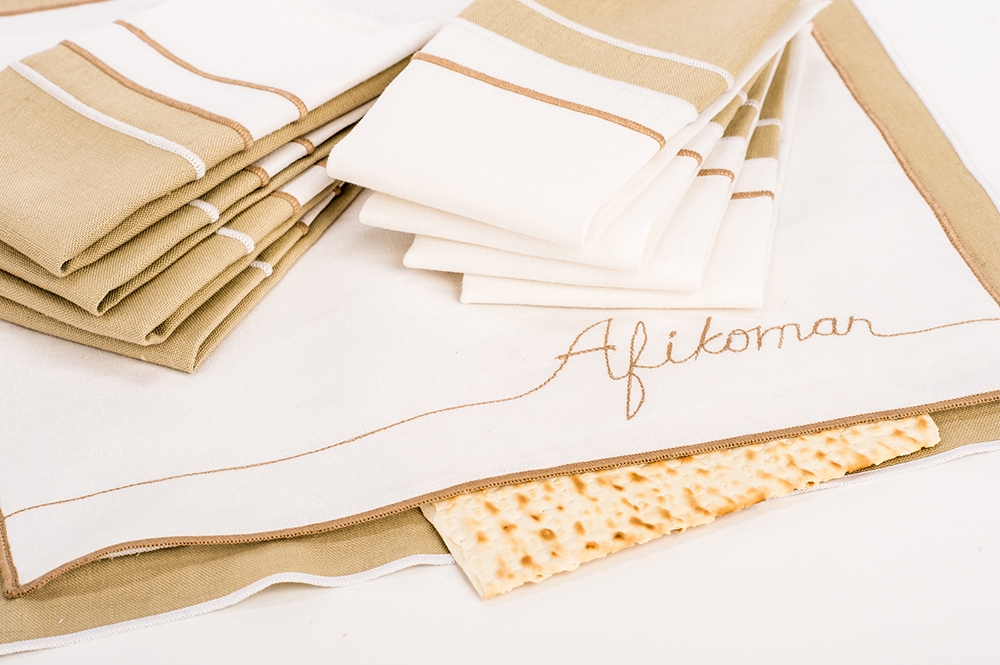 Barbara Shaw
A bold palette and dashes of irreverence are two of the elements that make Barbara Shaw's products so distinctive. Her products possess an infectious vitality, not unlike Israel, the country where they are designed and made.
The Australia-born designer, who made aliyah to Israel in 1986, was driven to create her own line when she, like Danielle Frum, couldn't find gifts she liked. "I saw a gap in the market for bold, well-designed and packaged gifts that are practical and beautiful," she says.
Shaw's business launched in 2008 with aprons, tote bags and towels. The line has expanded exponentially since then and includes not only a variety of textiles, including onsies, but also ceramics, serving-ware, wood and glass. Shaw has enlisted other designers and artists in the work of envisioning products for her company.
Sources of inspiration are varied: dramatic typefaces; fabric patterns such as paisley and damask; spring vegetation and other natural motifs; scenes from the Prague Haggadah; Yiddish words and sayings; even the hoopoe, Israel's crested and golden-hued national bird.
Products are featured at Shaw's three shops and are sold online and through museum shops around the world. "Our aim is to touch people's hearts and strike a chord with their heritage and family background," she says. "People enter my stores and start smiling, hence my tag line: 'Gifts that make you smile.'"
For this Passover, Shaw has debuted the playfully patterned Haggadah Seder Plate ($99), designed by the Dov Abramson Studio in Jerusalem. Inspired by ancient Mesopotamian incantation bowls, the highly detailed design has a naïve yet modern quality and echoes scenes from the Haggadah. The same motif appears on a matzo cover, afikomen bag, a hand towel, and other items. Shaw has also introduced matzo boxes ($18) which she says, "are an absolute hit, very modern in design and so practical and useful. Keep in mind I only make things I need."
Laura Cowan is probably the only Judaica designer who draws inspiration from the world of space exploration. Anyone who sees her collection of menorahs, dreidels, Shabbat candlesticks, Seder plates and other Judaica can't help but be wowed by their glistening surfaces and futuristic ethos. Indeed, her designs have helped to launch (forgive the pun) a new wave of exciting Judaica design.
Cowan, who was born in Manchester and began her career in London after graduating in Silversmithing and Jewellery at London Guildhall University, now has a studio in Neve Tzedek, a charming neighborhood in her adopted city of Tel Aviv.
In 2008, two of Cowan's rocket-shaped mezuzahs—the Apollo and the Shuttle—journeyed to the International Space Station with American astronaut Greg Chamitoff."In my mezuzah designs I use a simplified, pure rocket shape as a symbol of modernity," she writes. "Each piece is given a further identity by the type of metal and finish chosen. For example, a mezuzah with a matte surface on white metal accentuates the futuristic look, while a distressed or antiqued brass finish adds an unexpected juxtaposition of past and future. I work on each contemporary mezuzah design adjusting the chemical concentration, timing and temperature until I have achieved the right shade or texture for that piece."
For her new Seder and matzo plates, Cowan draws inspiration not from space, but from something much more down to earth: rain drops falling into water. "Just as a small drop of water can impact the circumference around it many times, so too can one person create a ripple effect on people around them," she says.
Laura encompasses the Seder plate ($360) with the words of the Ma Nishtana, creating the Ripple Effect that characterizes this collection. The porcelain bowls for the ritual foods are magnetized so they can be arranged according to individual taste. The matzo plate ($250) is encircled with words taken from story of the Exodus.